Certified Intuitive Eating Counselor | Dish With A Dietitian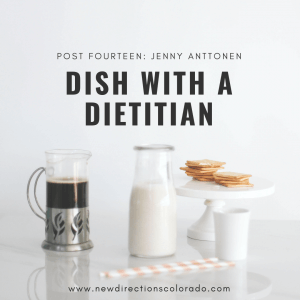 As I work with my clients, I strongly suggest working with a registered dietitian during recovery.  There are times when questions surface during session that can be better answered by a dietitian rather than an eating disorder therapist.  Dietitians are an integral part of an eating disorder treatment team.  Registered dietitians are educated professionals who know about not only food but also the way nutrition interacts with our unique bodies along with how nutrition can help improve our overall wellbeing. It can be helpful to learn about what a Certified Intuitive Eating Counselor is and is not. This post will help you learn more about the certificate training program of Certified Intuitive Eating Counselors and how they can help you in the recovery process from both disordered eating and an eating disorder.
Each month, New Directions Colorado features a dietitian to help answer various questions you have. The goal of these blog posts is to familiarize yourself with dietitians, have additional recovery resources and to ask questions in a format that may feel less intimidating before scheduling a session with them.
Having the task of finding the right fit in a provider (i.e. mental health therapist, dietitians, psychiatrists and medical doctors) for your unique goals and needs can be overwhelming. Not all providers will be a good fit for you. We completely get that and want you to be successful in your recovery. Listen to your intuition on the right fit. Now, let us move forward to today's guest dietitian!
Jenny Anttonen, RDN, Certified Intuitive Eating Counselor | Jenny The RDN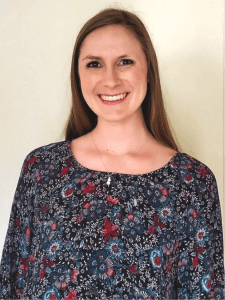 Indiana Based Registered Dietitian Nutritionist helps answer questions from individuals who struggle with disordered eating and eating disorders.
WHAT IS A CERTIFIED INTUITIVE EATING COUNSELOR?
A Certified Intuitive Eating Counselor is an allied health professional, for example a registered dietitian nutritionist, psychologist, therapist, health educator, physician, social worker, school counselor, etc. who possesses a bachelor's degree or higher and credentialing or licensing in a health related field. This is a post-degree additional training to compliment past experience. It is not a separate degree but rather a certificate of continued education in the field. A Certified Intuitive Eating Counselor has read the book Intuitive Eating, and decided they want to be better equipped to fully understand, implement, and be able to teach others how to become intuitive eaters. This requires going through training with the co-authors/registered dietitians of the book Intuitive Eating by Evelyn Tribole and Elyse Resch.
WHAT TYPE OF TRAINING OR COURSE WORK DOES A CERTIFIED INTUITIVE EATING COUNSELOR EXPERIENCE?
A Certified Intuitive Eating Counselor has:
Completed the book Intuitive Eating and passed a self-study course/exam
Completed Evelyn Tribole's Intuitive Eating PRO Skills Teleseminar series
Completed the Intuitive Eating Workbook
Completed supervision/coaching sessions with either Elyse Resch or Evelyn Tribole
CAN YOU HELP EXPLAIN WHY I WOULD WORK WITH BOTH A CERTIFIED INTUITIVE EATING COUNSELOR AND A MENTAL HEALTH COUNSELOR (OR THERAPIST)? THEY BOTH HAVE THE TITLE COUNSELOR IN THEM?
Both the Certified Intuitive Eating Counselor and mental health counselor/therapist are integral to healing your relationship with food and body. A Certified Intuitive Eating Counselor can help work with you on the food "stuff" like food rules/thoughts/beliefs, restriction, binging, and how to ditch dieting and connect eating with your body's unique signals and cues. This type of help can be life changing and really help you feel more normal around food, whether this is a way you used to be able to eat or maybe this is the first time you experience a healthy relationship with food.
Working with a Certified Intuitive Eating Counselor can sometimes "uncover" information that would be best for you to work on in sessions with a mental health counselor/therapist. Sometimes people have thoughts, behaviors, and concerns that involve food and movement that are related to something deeper psychologically, some therapists may choose not to "go there" with the complicated relationship with food in the way. Discussing your relationship with food might be helpful if seeing a Certified Intuitive Eating Counselor. You can reserve your precious time in therapy to work on the deeper emotional and psychological layers. Intuitive Eating Counselor is not synonymous with a licensed mental health therapist, although some providers might carry both credentials.
WHAT DO MOST PEOPLE NOT KNOW ABOUT A CERTIFIED INTUITIVE EATING COUNSELOR?
Certified Intuitive Eating Counselor's are loaded with research and experience! Evelyn Tribole's Teleseminar series was no joke! Evelyn provided 10-20 research articles weekly, that we were to read prior to the weekly 75-85 minute session. Each lesson felt like a graduate level course! Evelyn has been working in nutrition counseling with the intuitive eating approach (that she and Elyse Resch developed!) for years and has so much knowledge. I completed the teleseminar series feeling more confident to help others trouble-shoot and work through the process of learning to become an intuitive eater. The biggest part of intuitive eating is essentially to unlearn or forget all the food rules people pick up throughout their life in diet culture. Intuitive eating is all about learning through your own eating experiences and understanding that dieting was not a long term solution. It is so liberating to be able to trust and respect your body!
HOW IS WORKING WITH A CERTIFIED INTUITIVE EATING COUNSELOR DIFFERENT THAN WORKING WITH A REGISTERED DIETITIAN?
Having the Certified Intuitive Eating Counselor training under my belt as a registered dietitian has prepared me to counsel clients with a more compassionate, gentle, curious, and weight neutral focus than any training I received to become a registered dietitian. Registered dietitians come from all sorts of training backgrounds and specialty areas. Intuitive eating resonates with me personally, because I knew that there had to be a better way to enjoy a fulfilling life without excluding foods through diets and restriction. Intuitive eating also resonates with me professionally, because I have patients that struggled with dieting for years and never knew there was a better, more realistic way to eat and understand food and their body.
GETTING TO KNOW JENNY
WHAT IS A SINGLE WORD OR PHRASE THAT DESCRIBES YOU IN YOUR PRACTICE?
Realistic. Intuitive eating is realistic because it does not require a diet plan, and is not pass or fail. Every eating experience is new information and you're not "good" or "bad" at it. The alternative to intuitive eating is unrealistic, because who has time to be on their phone logging food the rest of their life?
Intuitive eating is the most realistic and sustainable way to eat. Really. Imagine waking up, eating what sounds good to you, and moving on. Then doing that for each time you eat. Imagine enjoying foods that were once "forbidden". Tuning into your hunger and fullness cues takes practice at first, especially after years of restriction and dieting. There might be some rules and feelings that pop up telling you "don't eat that". But once you master this skill, it is one that will stay with you for the rest of your life, and you can LIVE your life without constant worry about food and your body.
JENNY'S EXPERIENCE
Jenny Anttonen, RDN, LD is a registered dietitian nutritionist in based in Indianapolis, IN. I am passionate about spreading the message of Health At Every Size® and Intuitive Eating. I help guide others through the process of building a healthier relationship with food and body. I lived in Indiana and Kentucky while completing my education to become an RDN. I have survived an eating disorder, which I feel helps me have a special level of compassion toward my clients. Intuitive eating was something that just "clicked" for me, and made the path toward healing possible. In my free time, I love spending time with my husband outdoors, streaming TV shows, and having fun with family!
Connect With Jenny
You can find out more about Jenny Anttonen's services by checking out her website. If you are on social media, it is helpful to know that she is also! Check out the following links:
Lauren Rieker, the registered dietitian and owner of Renovate Your Plate has brought Jenny on to her team this year! She is so excited about working together to share such an important message.

If you or someone you know is suffering from an eating disorder, contact an eating disorder therapist right away. Call 720-306-1631 to set up your free 30 minute consultation, where we can check in with what's present for you and you may ask a trained eating disorder therapist any questions you might have. You may also learn more about eating disorder therapy offered by New Directions Colorado, here.
© Erica Faulhaber 2019 – This blog may be shared or reprinted as long as the information is unedited and the author bio, including contact information is printed along with the blog.