Dietitian's Inner Thoughts | Dish With A Dietitian
As I work with my clients, I strongly suggest working with a registered dietitian during recovery.  There are times when questions surface during session that can be better answered by a dietitian rather than an eating disorder therapist.  Dietitians are an integral part of an eating disorder treatment team.  Registered dietitians are educated professionals who know about not only food but also the way nutrition interacts with our unique bodies along with how nutrition can help improve our overall wellbeing. It can be helpful to learn about a dietitian's inner thoughts. This post will help you learn more about the thought process of a dietitian and how they can help you in the recovery process from both disordered eating and an eating disorder.
Each month, New Directions Colorado features a dietitian to help answer various questions you have. The goal of these blog posts is to familiarize yourself with dietitians, have additional recovery resources and to ask questions in a format that may feel less intimidating before scheduling a session with them.
Having the task of finding the right fit in a provider (i.e. mental health therapist, dietitians, psychiatrists and medical doctors) for your unique goals and needs can be overwhelming. Not all providers will be a good fit for you. We completely get that and want you to be successful in your recovery. Listen to your intuition on the right fit. Now, let us move forward to today's guest dietitian!
Julie Cole, RDN, CEDRD | J Cole Nutrition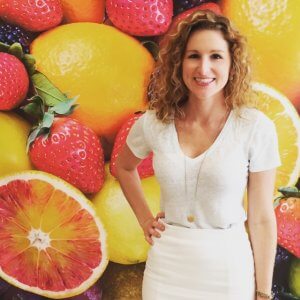 Florida Based Registered Dietitian Nutritionist and Certified Eating Disorder Registered Dietitian helps answer questions from individuals who struggle with disordered eating and eating disorders.
IF BMI DOES NOT MATTER, WHY IS THIS CHART USED IN NUTRITION THERAPY TO RESTORE WEIGHT WITH ANOREXIA NERVOSA (AN)?
It was traditionally used as a guideline, but more recently I see people questioning BMI. Eating Disorder Recovery put out an article "Are We Setting Recovery Weights Too Low?" which questions where we set target weights (***Trigger Warning: content of article does include explicit number talk about weight and BMI).
Eva Musby, (coach and supporter of parents who have children suffering from eating disorders) recommends treating each person as an individual and looking at trends in growth charts.
In growth charts, individual trends in both height and weight can be seen based on percentiles. Significant changes in the trends can help better inform providers with how best to tailor treatment plans.
Recovery from any eating disorder can become much easier with trained professionals including mental health therapists, physicians, dietitians and psychiatrists.
WHAT DOES "WEIGHT IS NOT A BEHAVIOR" MEAN?
Weight is not a behavior that one can start/stop like smoking. Physicians are making recommendations for behavior change and listing weight instead of the behaviors that impact weight. Weight loss can be a physician's desired outcome, however there is no explanation of how to get there versus "stop smoking" is the behavior to change to obtain the desired outcome of becoming a non-smoker.
I CANNOT AFFORD TO SEE A DIETITIAN. ARE THERE ANY FREE ONLINE RESOURCES TO HELP PEOPLE WITH CREATING MEAL PLANS OR GETTING SOUND NUTRITION ADVICE THAT ARE NOT DIET-CENTRIC?
I'm not sure, that is a great question. I personally am trying to get credentialed through insurance but I am finding it not so easy. In my practice, I offer packages to aid with cost. I'm also able to provide a "superbill" that allows clients to submit the bill to insurance for possible reimbursement. I think it's worth it for clients to reach out to dietitians individually and let them know their financial position and see if the dietitian offers a sliding scale.
It can be challenging to find information out there that is not diet-centric and nutritionally sound. When in doubt you can always reach out to a professional to get help. Hopefully one day soon, there will be more accessible options for all folks to get the care they need without the stressors of financial pressures.
MY DIETITIAN WON'T GIVE ME A MEAL PLAN. HOW DO YOU DECIDE IF A MEAL PLAN IS APPROPRIATE FOR A CLIENT?
Meal plans are not helpful for everyone. Dietitians use their knowledge and experience to help inform this decision. What it comes down to is the individual and deciding if a meal plan will aid in recovery or not. Here are a couple things to consider:
• Will the meal plan create anxiety?

• Will it be used as a diet?

• Will it help create security?
HOW DID YOU DECIDE TO BECOME A CERTIFIED EATING DISORDER DIETITIAN? WHAT IS INVOLVED WITH THAT CREDENTIAL?
I attended a SCAN (Sports, Cardiovascular, and Wellness Nutrition) conference and met dietitians that had their CEDRD, I listened to the benefits of having the CEDRD, the main one being that it would help potential clients identify a dietitian that specializes in eating disorders.
The credentialing process is a lot but it is well worth it! I enjoy attending the IAEDP (International Association of Eating Disorders Professionals) events and conferences and continuing to learn more in this field. To become a CEDRD, it requires: 2500 supervised patient care hours directly in the field of eating disorders by an IAEDP Approved Supervisor. Continued education hours in: body image, weight and food issues; in abnormal psychology/addictions; and in counseling/psychotherapy. Four core classes and pass the IAEDP™ Certification Exam. A 1500 word Case Study and three letters of recommendation. To maintain the credentialing I attend an IAEDP conference every four years and complete 20 hours of continuing education directly in the field of eating disorders during the course of each two-year renewable period.
JULIE'S EXPERIENCE
Julie Cole, MS, RDN, LDN, CEDRD, Certified Intuitive Eating Counselor. Julie is also a graduate from the Natural Gourmet Institute Chef Training Program. Julie obtained two bachelors of science from University of Florida in Food Science and Human Nutrition focus on Dietetics and in Family, Youth and Community Services.
Julie completed a Master of Science in Nutrition and Dietetics at University of North Florida.
Julie's path into dietetics developed out of her love for food, at the Natural Gourmet Institute she was taught how to balance the diet to promote health. Learning more about nutrition she saw the value in becoming a Registered Dietitian and wanted to learn how to apply nutrition therapy to individuals with acute and chronic conditions.
Julie was recognized as the subject matter expert and speaker at Malnutrition Awareness Week for her innovative approach to patient care.
Julie's passion is improving people's relationship with food utilizing her clinical and culinary experience. She is a certified eating disorder registered dietitian and is a certified intuitive eating counselor.
Connect With Julie
You can find out more about Julie Cole's services by checking out her website. If you are on social media, it is helpful to know that she is also! Check out the following links:

If you or someone you know is suffering from an eating disorder, contact an eating disorder therapist right away. Call 720-306-1631 to set up your free 30 minute consultation, where we can check in with what's present for you and you may ask a trained eating disorder therapist any questions you might have. You may also learn more about eating disorder therapy offered by New Directions Colorado, here.
© Erica Faulhaber 2019 – This blog may be shared or reprinted as long as the information is unedited and the author bio, including contact information is printed along with the blog.