Disordered Eating In Female Athletes | Dish With A Dietitian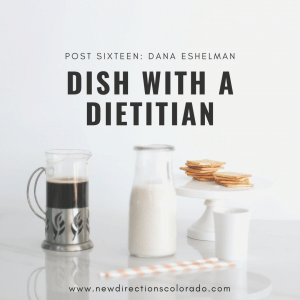 As I work with my clients, I strongly suggest working with a registered dietitian during recovery. There are times when questions surface during session that can be better answered by a dietitian rather than an eating disorder therapist. Dietitians are an integral part of an eating disorder treatment team. Registered dietitians are educated professionals who know about not only food but also the way nutrition interacts with our unique bodies along with how nutrition can help improve our overall wellbeing. It can be helpful to learn about how disordered eating can impact you as a female athlete. This post will help you learn more about disordered eating in female athletes and how to find out more about the recovery process from disordered eating.
Each month, New Directions Colorado features a dietitian to help answer various questions you have. The goal of these blog posts is to familiarize yourself with dietitians, have additional recovery resources and to ask questions in a format that may feel less intimidating before scheduling a session with them.
Having the task of finding the right fit in a provider (i.e. mental health therapist, dietitians, psychiatrists and medical doctors) for your unique goals and needs can be overwhelming. Not all providers will be a good fit for you. We completely get that and want you to be successful in your recovery. Listen to your intuition on the right fit. Now, let us move forward to today's guest dietitian!
Dana Eshelman, RDN | A Dash Of Dana
Colorado Based Registered Dietitian Nutritionist helps answer questions from individuals who struggle with disordered eating.
WHAT ARE SOME OF THE IMPACTS OF DISORDERED EATING ON ATHLETIC PERFORMANCE?
Nutrition is very individualized and can vary based on many factors including age, gender, body composition, exercise regimen, and more. When an athlete begins to veer from adequate fueling they not only put their fitness and performance at risk, but their overall health. In my athletes I have seen low calorie intake negatively impact performance through low energy availability/ nutrition deficiencies, muscle wasting, excessive fat loss, dehydration and electrolyte imbalances.
When an individual has temporary or long-term restrictive eating habits, it depletes the body of essential nutrients which causes a stress response in the body leading to inflammation. This puts the athlete at risk for injury, poor recovery and decreased performance.
Recovery from disordered eating and eating disorders can become much easier with trained professionals including mental health therapists, physicians, dietitians and psychiatrists.
WHAT ARE THE DANGERS OF CONSTANTLY MANIPULATING MY BODY SHAPE AND SIZE FOR THE SAKE OF SPORTS?
Feeling like you need to look a certain way for a sport is exhausting and can cause negative effects long term. This places you at high risk for micronutrient deficiencies. Micronutrient deficiencies can lead to poor recovery, injury, anemia (low iron= low energy), decreased performance, decreased bone density, amenorrhea (loss of menstruation).
Learn more about preventing and overcoming RED-S.
AS A PRIOR ATHLETE, WHAT ARE YOUR RECOMMENDATIONS FOR ELECTROLYTE IMBALANCES AS I'M RECOVERING FROM DISORDERED EATING?
Electrolytes are plentiful in our fruits and veggies, so first and foremost getting a variety of color on your plate at meals & snacks is a must. Electrolyte beverages may also be consumed! My favorite for everyday hydration are nuun sport tablets, coconut water, and ucan. Some other great options are ultima replenisher, hydrant, and propel immune support.
HOW CAN YOU HELP ME WHILE PARTICIPATING IN SPORTS THAT HAVE A WEIGHT-CLASS REQUIREMENT, WHILE STILL NOURISHING MYSELF ADEQUATELY?
In these sports it is crucial to be sure you are maintaining muscle mass + body stores to continue to have normal body functions while hitting weight-class and peak performance. This takes fine tuning your macronutrients (carbs, protein, and fat) to meet weight requirements and ensure you are not depleting your body of essential nutrients for recovery & muscle training adaptations. I monitor athletes biofeedback such as, sleep, stress management, mood, cravings, libido and energy to ensure you are getting the nutrients you need for health + performance!
AS A GYMNAST, I'VE ALWAYS BEEN PRAISED FOR A SMALLER BODY AND NOW MY PERIOD HAS GONE OFFLINE. WHAT ARE SOME GOOD STEPS TO GET MY BODY BACK ON TRACK WITHOUT COMPROMISING MY BODY AND IT'S FUNCTIONS?
Amenorrhea, or loss of menstruation, can be caused from increased training load, low body fat, low body weight, inadequate intake, or menopause. As a female athlete, dropping weight and having inadequate energy intake to maintain normal body functions (menstruation) is detrimental to your performance + health causing multiple micronutrient deficiencies. Long term effects can lead to decreasing bone density and causing the potential to effect reproductive organs. To restore normal menstruation, I would recommended increasing your calories with a focus on adequate carbohydrates to support activity and body functions and fats to support hormone health. Working with a professional can help determine your specific numbers as each of us has unique needs.
WHAT IS THE MOST FASCINATING THING YOU'VE LEARNED ABOUT THE HUMAN BODY?
Nutrigenetics is a newer area of research that allows dietitians to develop a personalized nutrition plan based on an individuals genetic predisposition. Meaning, changing your nutrition based on your inherited genes may decrease risk for developing familial diseases/ conditions.
WHAT IS YOUR FAVORITE THING TO DO DURING SPRING TIME IN COLORADO?
I am a triathlete so getting off my indoor trainer and out for early spring bike rides is phenomenal!!
DANA'S EXPERIENCE
Dana Eschelman, RDN is a lover of all things food and believer that we can prevent disease and chronic illness from whole food nutrition.
She began her career as a dietitian in the clinical setting working with a variety of metabolic conditions- diabetes, kidney disease, irritable bowel syndrome, food allergies/ intolerances, etcetera. She decided she wanted to mesh her love for metabolic disease and sports nutrition into helping active individuals prevent chronic illness. This is where A Dash of Dana took shape!
She would love to coach you – to hold you accountable when the going gets tough, to be your cheerleader in your success, to give you tough love when you need an extra push, and to guide you in making a transformation FOR LIFE.
She is a firm believer in making life-long, healthy habits. After all, you have one body. The time is now to commit to treating yourself right!
Connect With Dana
You can find out more about Dana Eschelman's services by checking out her website or by connecting with her via email or by phone:
Phone: 714-393-7054
Email: adashofdanardn@gmail.com
If you or someone you know is suffering from an eating disorder, contact an eating disorder therapist right away. Call 720-306-1631 to set up your free 30 minute consultation, where we can check in with what's present for you and you may ask a trained eating disorder therapist any questions you might have. You may also learn more about eating disorder therapy offered by New Directions Colorado, here.
© Erica Faulhaber 2021 – This blog may be shared or reprinted as long as the information is unedited and the author bio, including contact information is printed along with the blog.