Intuitive Eating Tips For ED Recovery | Dish With A Dietitian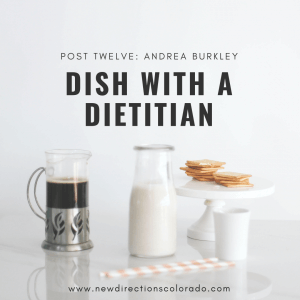 As I work with my clients, I strongly suggest working with a registered dietitian during recovery.  There are times when questions surface during session that can be better answered by a dietitian rather than an eating disorder therapist.  Dietitians are an integral part of an eating disorder treatment team.  Registered dietitians are educated professionals who know about not only food but also the way nutrition interacts with our unique bodies along with how nutrition can help improve our overall wellbeing. It can be helpful to learn about not only Intuitive Eating tips but also how intuitive eating (IE) and eating disorder (ED) recovery intersect. This post will talk about helping you explore and implement intuitive eating tips while repairing relationships to food, mind and body in an effort to seek recovery from an eating disorder.
Each month, New Directions Colorado features a local dietitian to help answer various questions you have. The goal of these blog posts is to familiarize yourself with local dietitians, have additional recovery resources and to ask questions in a format that may feel less intimidating before scheduling an in-person session with them.
Having the task of finding the right fit in a provider (i.e. mental health therapist, dietitians, psychiatrists and medical doctors) for your unique goals and needs can be overwhelming. Not all providers will be a good fit for you. We completely get that and want you to be successful in your recovery. Listen to your intuition on the right fit. Now, let us move forward to today's guest dietitian!
Andrea Burkley, RD | Fully Nourished Nutrition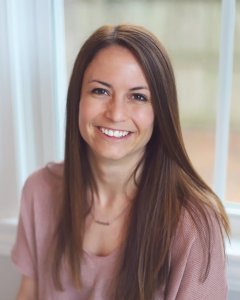 Denver Based Non-Diet Registered Dietitian helps answer questions from individuals who struggle with disordered eating and eating disorders.
I CANNOT GET MY HUNGER CUES BACK ONLINE AFTER WORKING WITH A COUPLE DIETITIANS. DO SOME PEOPLE'S CUES NEVER COME BACK ONLINE AFTER NOT LISTENING TO THEM?
To begin, I want to recognize all of the challenging work you have already been doing on your journey to reconnect with your hunger cues. Here is an intuitive eating tip: Rediscovering hunger cues is such a complex and challenging principle of Intuitive Eating (IE). Each body is different, and each individual may experience hunger in different ways. Reconnecting to your body and becoming aware of your body's hunger cues can take time as you are rediscovering how to listen to your body's needs.
It is important to keep in mind that the longer you have been disconnected from your hunger cues the longer it may take to become reconnected. I invite you to ease into the discomfort of sitting with your body and learning the various physical sensations that arise throughout the day. You can even start by just setting aside five minutes during the day and listen to your heartbeat, or focus on your breathing, feel the sensations. By tuning in to these sensations you are strengthening your interoceptive awareness, which allows you to honor and identify cues and information given by your body. As you continue to consistently nourish yourself without acting on food rules, and truly trust in your body, your cues will begin to return over time.
It is also so important to work with a dietitian who is a good fit for you personally and who will be a strong support and advocate for you. I would encourage each individual recovering from disordered eating or an eating disorder to get support from a dietitian who is well educated on the IE principles, HAES® informed, and can help navigate reconnecting with your body.
HOW WOULD YOU ENCOURAGE BOYCOTTING DIETING WHILE EMBRACING THE PROCESS OF INTUITIVE EATING?
I would encourage each individual to take a deeper look at the whys behind their desire to diet, and truly reflect on what purpose dieting is serving in their life. Another intuitive eating tip: Consider how dieting has impacted your relationships, your emotional wellbeing and how much of your headspace dieting has taken over. Although dieting makes promises for a better and happier life, reflect on what dieting has stripped and stolen from you. Ask yourself how you can challenge those dieting thoughts and behaviors in order to live a more value driven life. Embracing the process of IE may feel uncomfortable at first, as you shift to a more compassionate and judgment-free form of self-care. But know that you are worthy and deserving of nourishing yourself free of guilt and shame.
WHY WOULD I PAY ANOTHER PERSON TO GO THROUGH THE INTUITIVE EATING WORKBOOK WITH ME, IF I CAN DO THE WORKBOOK BY MYSELF?
Having support from a professional who has experience and has worked on their own IE journey is such an important piece of this work. This journey is emotional, vulnerable, and will look different for each individual. While The Intuitive Eating Workbook provides information and activities to help guide you, it does not provide individualized support. This is tough work, and each individual deserves emotional support along the journey.
IS INTUITIVE EATING A FREE PASS TO EAT ANYTHING AND EVERYTHING I WANT?
To respond simply, yes. However, IE is complex and I feel as though this question cannot be answered with solely a yes or no response.
IE provides a general framework and ten guiding principles that are intended to help people reconnect with their body's needs and give themselves permission to eat all foods without rigid rules and restriction, but while also honoring what helps them feel their best in their body.
I often hear the concern that IE promotes eating cake and cookies all day while throwing all other types of foods out the window. But it is important to remember that while IE promotes flexibility and food freedom, it also honors overall wellbeing. If someone has been restricting their intake and then begins working on their IE journey it is completely expected that there will be a period of time when they will want to eat all the "forbidden foods" they haven't given themselves permission to eat previously. But over time this will pass and stabilize.
An additional intuitive eating tip: Once you have a solid foundation of rejecting the diet mentality, tuning in to hunger and fullness sensations, and reconnecting with your body, you will also begin to honor your health as a whole while incorporating gentle nutrition. Trusting the process takes time. But once your body knows that it will be consistently nourished food will not carry so much power, and eating what you want and desire will come more naturally.
GETTING TO KNOW ANDREA
What is your favorite part about Colorado? What about your favorite Colorado activity?
My favorite part about Colorado is how much I feel at home in my body by being in nature and the outdoors. Nature has always held a very important space in my life, and I absolutely love having the ability and access to get to the mountains and the beautiful Colorado outdoor spaces. Being in nature brings me peace, connection to self, and is a large factor that contributes to my overall wellbeing. My favorite activity is hiking and exploring new trails with my dog and adventure buddy, Cooper.
ANDREA'S EXPERIENCE
Andrea Burkley is a Non-Diet Registered Dietitian located in Denver, Colorado. She is passionate about guiding others to disconnect from the external noise of mainstream media and diet culture, so they can honor the inner wisdom that's rooted within and live a fully nourished life- mind, body, and spirit. She is HAES® (Health at Every Size) informed and strongly believes that your worth is more than a number on the scale. Her areas of specialty include disordered eating, eating disorders, as well as respiratory and gastrointestinal (GI) issues. Andrea offers services in her Denver office as well as virtually.
Connect With Andrea
You can find out more about Andrea Burkley's services by checking out her website. If you are on social media, it is helpful to know that Fully Nourished Nutrition is also! Check out the following links:
Andrea can also be contacted by email at andrea@fullynourishednutrition.com

If you or someone you know is suffering from an eating disorder, contact an eating disorder therapist right away. Call 720-306-1631 to set up your free 30 minute consultation, where we can check in with what's present for you and you may ask a trained eating disorder therapist any questions you might have. You may also learn more about eating disorder therapy offered by New Directions Colorado, here.
© Erica Faulhaber 2019 – This blog may be shared or reprinted as long as the information is unedited and the author bio, including contact information is printed along with the blog.