PCOS and Eating Disorders | Dish With A Dietitian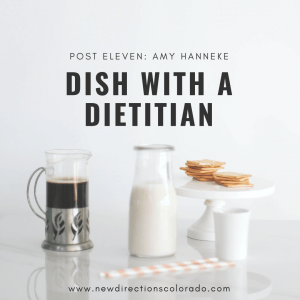 As I work with my clients, I strongly suggest working with a registered dietitian during recovery.  There are times when questions surface during session can be better answered by a dietitian rather than an eating disorder therapist.  Dietitians are an integral part of an eating disorder treatment team.  Registered dietitians are educated professionals who know about not only food but also the way nutrition interacts with our unique bodies along with how nutrition can help improve our overall wellbeing. It can be helpful to learn about how PCOS and eating disorders intersect along with the impact on recovery. This post will talk about helping you navigate a medical diagnosis of polycystic ovarian syndrome (PCOS) while recovering from an eating disorder.
Each month, New Directions Colorado features a local dietitian to help answer various questions you have. The goal of these blog posts is to familiarize yourself with local dietitians, have additional recovery resources and to ask questions in a format that may feel less intimidating before scheduling an in-person session with them.
Having the task of finding the right fit in a provider (i.e. mental health therapist, dietitians, psychiatrists and medical doctors) for your unique goals and needs can be overwhelming. Not all providers will be a good fit for you. We completely get that and want you to be successful in your recovery. Listen to your intuition on the right fit. Now, let us move forward to today's guest dietitian!
Amy Hanneke, RD | Satisfy Nutrition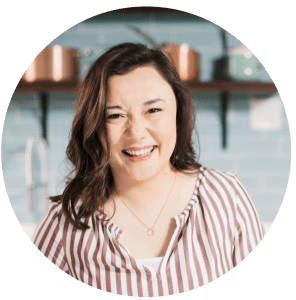 St. Louis Based Registered Dietitian helps answer questions from individuals who struggle with disordered eating and eating disorders.
HELP ME UNDERSTAND WHAT PCOS IS AND IS NOT.
PCOS is short for Polycystic Ovarian Syndrome. PCOS is an endocrine disorder that affects hormone production as well as other systems in the body. We don't know what causes PCOS, other than some mix of genetic and environmental factors – but PCOS is not something you "did to yourself" or caused in some way.
When it comes to irregular or absent periods, there are a lot of possible factors – so it's important to go to the doctor and get a full workup which includes ruling out other diagnoses. PCOS is diagnosed using the Rotterdam criteria (below) and having two of the three criteria is considered a diagnosis.
Irregular or absent ovulation/"menstrual dysfunction" (usually, long cycles and <9 periods per year)
Clinical or biochemical signs of hyperandrogenism (high testosterone) like facial/body hair growth, hair loss on your head, acne
Polycystic ovaries (diagnosed through a transvaginal ultrasound)
One important thing to note is that the presence of cysts alone is not equivalent to a PCOS diagnosis – there are several kinds of ovarian cysts, some of which are a normal part of the menstrual cycle. In terms of what PCOS actually means in the body, there are two "main" features I typically talk through with clients. One of the main features of PCOS is high androgens ("male" sex hormones) which cause symptoms like facial & body hair growth, acne, hair loss on your head, irregular periods, etc. Another common feature is insulin resistance, which affects most but not all people with PCOS – this essentially means your body processes carbohydrates that you eat differently and is a great area to explore with a dietitian.
PCOS is not something that can be diagnosed simply by looking at someone, and certainly not by body size (this is a common misconception I hear often). Not all women with PCOS live in larger bodies and not all women in larger bodies have PCOS, although provider bias here may lead to missed cases and is one of many reasons I practice from a Health At Every Size® perspective.
MY DOCTOR TOLD ME TO LAY OFF THE FOODS RIDDLED WITH FAT, SUGAR AND CARBS PLUS RAMP UP MY EXERCISE TO HELP MY PCOS. HOW DO YOU WORK WITH CLIENTS AROUND FOOD AND EXERCISE WITH RESPECT TO PCOS?
First of all, I want to express empathy and frustration alongside you – this is common quick advice given to those diagnosed with PCOS and can feel really conflicting in the midst of ED recovery or exploring intuitive eating. My first priority in working with clients is always getting to know them – their history with food and exercise, how they feel about food and exercise right now, and what their lives are like/what they find energizing and helpful in the context of caring for themselves. There is a really broad toolbox we can use to help manage PCOS, so whether it's gentle nutrition or exploring what a healthy relationship with exercise may look like, my goal is to meet clients where they are and walk alongside them. In my practice, I spend a lot of time shifting focus away from numbers (like a certain amount or frequency of exercise per week) and toward how clients feel – physically, mentally, emotionally – around the things we're trying.
I NEED RESOURCES TO LEARN MORE ABOUT PCOS AND HOW IT AFFECTS MY BODY. DO YOU HAVE ANY GO-TO RESOURCES FOR CLIENTS WITH PCOS?
Yes! I love the PCOS & Food Peace podcast, this post (part of a series) from an RD/NP, PCOS Nutrition Center, and I run month-long support groups for those struggling to find confidence in caring for their PCOS.

I DO NOT THINK INTUITIVE EATING IS POSSIBLE WITH PCOS. I'VE HEARD YOU HAVE TO HAVE A PRESCRIPTIVE DIET TO MANAGE IT.
I get this concern often in my practice, and love to use this as a foundation to explore the Hierarchy of Food Needs – essentially a concept that demonstrates the priority in nutrition first lies in adequate, ongoing access to food and gentle nutrition is only healthy (physically and mentally) once we've created a healthy relationship with food. Exploring relationship to food is always part of my work with clients, but also is a priority of mine before exploring gentle nutrition for this reason.
I'd also add that intuitive eating looks different for everyone – so while there's 10 principles of intuitive eating (IE), we may adapt the picture of IE for ourselves based on our resources, lives, and needs. Intuitive eating is for everyone, especially its core value of eating out of compassion for ourselves rather than fear. Rigid and prescriptive diets don't serve people well, especially not in the long run, so my work with clients centers on offering lots of options and tools rather than obligations and rules. Know that no matter your story, there is hope and healing for you.

AMY'S EXPERIENCE
Amy Hanneke is a registered dietitian in St. Louis, MO specializing in women's health. She has a passion for helping restore women's relationships with food and their bodies and find a flexible and nourishing eating pattern. Amy practices with a Health At Every Size® philosophy, because all bodies are worthy of care and belonging.
She has earned a Bachelor's of Science degree in Nutrition & Dietetics from Missouri State University and completed her dietetic internship and Master of Science in Nutrition at University of Kansas Medical Center. Upon completion of her dietetic internship, Amy served as Director of Food and Nutrition Services for a critical access hospital in southeastern Idaho. Amy serves clients in Denver as well as virtually across the United States.

Connect With Amy
You can find out more about Amy's services by checking out her website. If you are on social media, it is helpful to know that Satisfy Nutrition is also! Check out the following social media accounts:
FaceBook, Satisfy Nutrition
Instagram, @satisfy.nutrition
Amy can also be contacted by email at amy@satisfy-nutrition.com

If you or someone you know is suffering from an eating disorder, contact an eating disorder therapist right away. Call 720-306-1631 to set up your free 30 minute consultation, where we can check in with what's present for you and you may ask a trained eating disorder therapist any questions you might have. You may also learn more about eating disorder therapy offered by New Directions Colorado, here.
© Erica Faulhaber 2019 – This blog may be shared or reprinted as long as the information is unedited and the author bio, including contact information is printed along with the blog.