Seeing A Non-Diet Dietitian | Dish With A Dietitian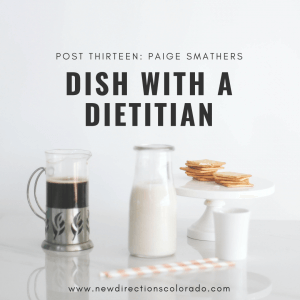 As I work with my clients, I strongly suggest working with a registered dietitian during recovery.  There are times when questions surface during session that can be better answered by a dietitian rather than an eating disorder therapist.  Dietitians are an integral part of an eating disorder treatment team.  Registered dietitians are educated professionals who know about not only food but also the way nutrition interacts with our unique bodies along with how nutrition can help improve our overall wellbeing. It can be helpful to learn about what, if any, roadblocks may be present discouraging you from seeing a non-diet dietitian during recovery from disorder eating or an eating disorder (ED). You may also have the looming question…should I see a non-diet dietitian? This post will helping you explore possible hesitations with visiting a non-diet dietitian to help with the nutrition therapy part of the recovery process.
Each month, New Directions Colorado features a dietitian to help answer various questions you have. The goal of these blog posts is to familiarize yourself with dietitians, have additional recovery resources and to ask questions in a format that may feel less intimidating before scheduling a session with them.
Having the task of finding the right fit in a provider (i.e. mental health therapist, dietitians, psychiatrists and medical doctors) for your unique goals and needs can be overwhelming. Not all providers will be a good fit for you. We completely get that and want you to be successful in your recovery. Listen to your intuition on the right fit. Now, let us move forward to today's guest dietitian!
Paige Smathers, RD | Positive Nutrition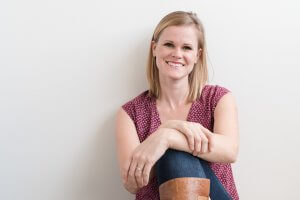 Utah Based Registered Dietitian Nutritionist helps answer questions from individuals who struggle with disordered eating and eating disorders.
I WANT TO SEE A NON-DIET DIETITIAN BUT WON'T. I WANT TO LOSE WEIGHT AND MOST DIETITIANS ARE OPPOSED TO HELPING ME WITH THIS. MOST ARE FOCUSED ON THE HAES MOVEMENT.  I FEEL LIKE I WON'T BE HEARD OR MY "WHY'S" WON'T BE RESPECTED. HOW WOULD YOU WORK WITH SOMEBODY LIKE ME?
It's totally understandable to have reservations about sharing your innermost desires and feelings about your body with another human being. And, if you've spent any time on social media exploring HAES, you might have felt invalidated about your weight concerns. I get where you're coming from, and many of my clients feel the same way before we begin our work together.
I can only speak for myself and my practice (as opposed to speaking for all HAES registered dietitians) that I hold so much space for exploring your desire for weight loss. I will never, ever shame someone who comes into my office wanting to lose weight. It's completely understandable given our social climate and pressures we feel to be thin at all costs. The tricky thing is: pursuing weight loss usually doesn't lead to better eating, health or overall wellbeing.
In the work I do with my clients, I like to explore how we can cultivate skills and tools to engage in behaviors around food that are health-promoting. Together, we explore what those behaviors look like in your individual life taking into account your values and unique goals. Whatever happens with your weight as a result of making changes to your nutrition is less important to your overall health and wellbeing than weight itself. It's a challenging paradigm shift to make, no doubt, but ultimately, when clients put weight loss on the back burner, they're able to make changes to their nutrition that are sustainable, realistic, positive and healthy.
I DON'T WANT TO SEE A DIETITIAN BECAUSE I'VE HEARD THAT A LARGE NUMBER OF DIETITIANS HAVE OR DO CURRENTLY ENGAGE IN DISORDERED EATING. IS THIS TRUE?
Many people are drawn to their profession due to their unique history or past. It's true that many dietitians have a history with struggling with food and/or body image. It's also true that most dietitians have done significant work to assess their own relationship with food to ensure they provide quality care to their clients.
I, myself, will disclose that I have never had anything near a clinical eating disorder. I struggled, for sure, but have a very healthy, happy relationship with food and my body now. Most dietitians I know would say the same about themselves.
I WON'T SEE A DIETITIAN BECAUSE A HIGHER PERCENTAGE OF DIETITIANS ARE IN SMALLER BODIES. I HAVE YET TO SEE A DIETITIAN IN A LARGER BODY. I FEEL LIKE DIETITIANS MAY NOT UNDERSTAND WHAT IT IS LIKE TO BE IN A LARGER BODY. CAN YOU HELP ME EMBRACE SIZE DIVERSITY, AS I DO NOT SEE THAT AMOUNG DIETITIANS?
I completely understand this concern and I would echo your call for more size diversity within my field!! Also, it's important to highlight that there are dietitians out there of all shapes and sizes.
Here's some perspective, though: I regularly have clients, family, friends, etc. make comments about my body in relation to my profession. They'll say, "Good thing you're thin otherwise you could never have the job you do!" I cringe when I hear this because I can't imagine the added level of shame a higher weight dietitian encounters as she (or he) navigates our fat-phobic world. That shame likely leads people of size away from this profession.
While I don't have lived experience that matches each and every client that walks into my door, I do have a skillset in the art and science of nutrition to offer support, to hold space and to validate and strategize for solutions. If you'd like recommendations for dietitians of size, please feel free to reach out to me and I can send some recommendations.
I AM SCARED TO SEE A DIETITIAN. I FEEL LIKE THEY ARE THE FOOD POLICE AND WILL JUDGE MY FOOD CHOICES. WILL YOU JUDGE MY CHOICES AND ME?
Most dietitians are more normal around food than non-dietitians! In my experience, dietitians are passionate about food, enjoy eating it and really, truly see food as neutral. Sure, there may be "food police" dietitians out there, but that's definitely not the majority.
I FEEL LIKE DIETITIANS ARE PERFECT EATERS. THEY KNOW THE MAGIC EQUATION TO NUTRITIONAL HEALTH. CAN YOU HLEP ME UNDERSTAND WHY DIETITIANS APPEAR MORE "HEALTHY" THAN THE GENERAL POPULATION AND WHAT ARE WE (GENERAL POPULATION) STRUGGLING WITH TO GET OUR HEALTH BACK ONLINE?
I can only speak for myself here, but I do not count, obsess, track, measure or stress about my food. I refuse to feel fear about food or eating. I am not a perfect eater. Perfect eating doesn't actually exist! The goal of nutrition therapy isn't to learn the "magic formula" for health, it's to figure out how to fuel your life with food and approaches to food that are nourishing and satisfying.
GETTING TO KNOW PAIGE
WHAT IS YOUR PERFECT WEEKEND?
My perfect weekend is being outside as much as possible. I live in Utah right by a beautiful canyon so I explore there a lot. I love cooking a nice breakfast, eating outside, going for a hike with my dog, having a dance party with my kids, playing a game, watching a movie, or going out on a date to a nice dinner with my husband.
PAIGE'S EXPERIENCE
Paige Smathers, RDN, CD is a registered dietitian nutritionist in private practice and podcaster whose work revolves around helping people heal their relationships with food and their body. She specializes in chronic dieting, addiction recovery nutrition, eating disorders and family feeding dynamics. Her approach to nutrition and health is grounded in mindfulness and is rooted in the Intuitive Eating and Health at Every Size® frameworks. She is the owner of Positive Nutrition®, which provides individual nutrition therapy, online courses, and mentorship and coaching for professionals. Paige has capability to work with people long-distance with a HIPAA compliant tele-health system.
Connect With Paige
You can find out more about Paige Smathers' services by checking out her website. If you are on social media, it is helpful to know that Positive Nutrition is also! Check out the following links:
Paige can also be contacted by her scheduling page by clicking here.

If you or someone you know is suffering from an eating disorder, contact an eating disorder therapist right away. Call 720-306-1631 to set up your free 30 minute consultation, where we can check in with what's present for you and you may ask a trained eating disorder therapist any questions you might have. You may also learn more about eating disorder therapy offered by New Directions Colorado, here.
© Erica Faulhaber 2019 – This blog may be shared or reprinted as long as the information is unedited and the author bio, including contact information is printed along with the blog.